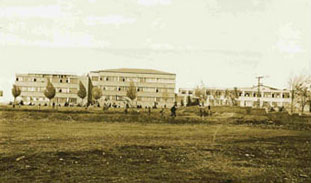 Gaziantep College Foundation Private Schools - 1970
Gaziantep College Foundation School was established in 1963 by a group of benefactors from Gaziantep under the leadership of the highly esteemed industrialist Cemil ALEVLİ who strongly believed in the significance of contemporary education based upon a deep-seated appreciation of Atatürk's principles and reforms.
Gaziantep College Foundation is a nonprofit foundation which dedicates all its resources to the service of the people of Gaziantep. It is a philanthropic institution recognized by Resolution No. 6657 dated 06.06.1973 and signed by Council of Ministers, designating it as a foundation serving the public benefit. Gaziantep College Foundation is exempt from taxes, similar to the Red Crescent and the Society for the Protection of Children and is maintained mainly by tuition fees and donations.
On the establishment throughout Turkey of Anatolian High Schools where the medium of instruction was originally English, Gaziantep College Foundation turned its buildings, comprising the elementary and high schools and 71040 m2 of land, over to the Ministry of Education to be used for educational purposes for a fixed period of time.
Later the same year, GKV applied to the Ministry of Education to open a new Elementary School and the Ministry of Education immediately allotted 6000 m2 of land to the Gaziantep College Foundation.
Consequently, a new additional Elementary School and a High School were built and put into service in 1996. Currently there are 1.750 students and 225 highly qualified teachers and staff, who are carrying out contemporary educational practices based on national and universal ideals, with the ultimate goal of educating successful individuals who will serve for the benefit of the country in the future. In addition to academic activities, there are also lots of student- activity clubs which enjoy both indoor and outdoor sports facilities in covered areas extending to 17.000 m².